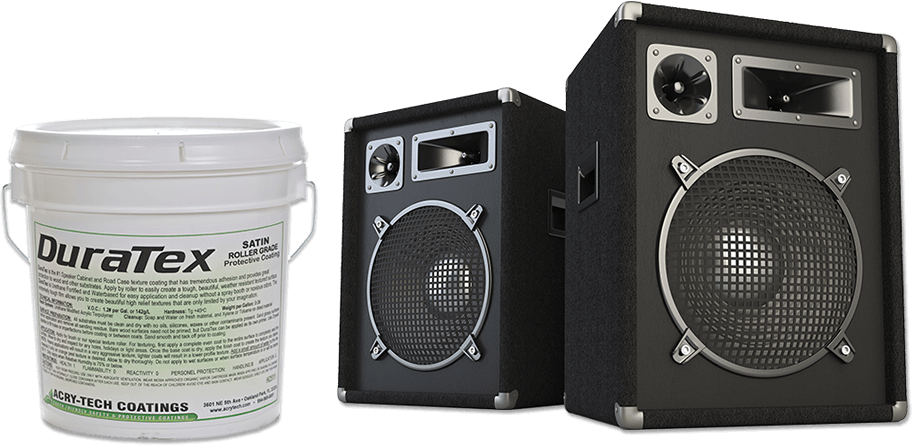 What Our Customers Are Saying
Product Reviewed: Speaker Cabinet

The Best Solution for Durable Speaker Enclosure Finishing

This is my second gallon of the DuraTex. Far easier to apply than Tolex, much more durable, and on the rare occasion that damage occurs, it's far easier to repair. I wouldn't think of using anything else to cover speaker enclosures, amps, or any other musical equipment that must be moved.

Nexy A.


Product Reviewed: Speaker Cabinet

Worked great covering my ported speaker box

I used this to paint my home theater ported 18" subwoofer enclosure.

This material is bullet proof once it completely dries. You would have to take a hammer to it to do damage! It looks good too!

Jules M.


Product Reviewed: Roof Paints

they stand up so much better than any other brand I've ever used including big name national brands

I wanted to let you know that we are very happy with your roof paints. We've had no callbacks due to mildew, fungus mold or algae and the colors are NOT fading! I'm quite satisfied with your great roof paint products, they stand up so much better than any other brand I've ever used including big name national brands. Thanks for the great service and products. I especially like your Primer.

Steve Shernecker, Controller
CertaPro Painters


Product Reviewed: Industrial Paints

Your professionalism and ability to communicate with our customers on their level is truly a great asset to your firm

Thanks for helping us rescue a large source of revenue we were in danger of losing. You helped us show our customer the products they really needed, which we could distribute to them from you. You saved us at least $375,000 in sales that could have been lost this year alone! Your professionalism and ability to communicate with our customers on their level is truly a great asset to your firm. You have a vast knowledge of the challenges and problems that my customers face daily. I've NEVER dealt with a paint manufacturer with more knowledge or higher level of service than you supply.

Pete Wechter
County Auto Paints


Product Reviewed: Speaker Cabinet

Lays down and dries fast

Not a big reviewer but wanted to give a couple of quick positives on the Acry-Tech Coating. I'm the owner of a small car audio shop and needed to give my boxes a professional looking cover when vinyl or carpeting wouldn't be a good option. I Was spending quite a bit on rattle can style bed liner paint with inadequate results. I purchased the coating in the spray grade but have had great results using it with my sprayer or roller. It covers quickly and provides a very durable finish. On top of that, it dries quite a bit quicker than the rattle cans it replaced. The only time I couldn't get it to lay down smooth is when I had areas that required a brush to reach but in the future, I'll just spray those areas. It's hard to find a paint that will work on MDF but I think I've found the solution.

Amped Up


Product Reviewed: Industrial Paints

Thank you for the excellent service and consultation you provided for our Facilities Improvement Project

Thank you for the excellent service and consultation you provided for our Facilities Improvement Project. The paint you provided is superior to what we have used in the past and we appreciate your service.

Audrey McDonough
New Covenant Church

Earth Friendly Non Slip, Speaker Cabinet, Waterproof and Heat Reduction Roof Coatings.
Acry-Tech Coatings manufactures a wide range of unique, earth friendly safety and protective coatings.  Our
Safe Tread
and
Soft Tread
provide a safe footing for floors and decks while our
DuraTex®
creates a beautiful protective texture for Speaker Cabinets & Road Cases.  We have a proven track record as
waterproof roof coatings
have been protecting roofs for over 30 years.  Additionally, our
CeramaX coating
for roofs reflect and dissipate heat and UV rays which lowers energy costs.
Safety is a top priority.  The old saying "an ounce of prevention is worth a pound of cure" still holds true today.  We'll help you create Non Skid Floors to prevent slip and fall accidents with our vibrant safety colored anti-slip coatings.  We provide an assortment of standard colors to complement any décor or custom match almost any color.  Our Safe-Tread Clear provides safe footing while sealing and protecting your existing beautiful flooring, steps, or decking.
Roof replacement is a costly repair.  Our waterproofing systems have protected roofs through over 20 hurricanes and Tropical Storms while reducing the heat buildup in attics.  We'll help you protect your investment and cut costs.  Our products are very effective at keeping your whole home cooler and your air conditioning working more efficiently.
Timely maintenance is much more cost effective than replacement. Maintaining your home, office, building or industrial facility is imperative, especially now. Conserving capital through the wise application of maintenance coatings will prolong the life of your property.
Acry-Tech makes the unique coatings and paints you need.  Additionally, most of our products are low VOC (Volatile Organic Compounds).  You'll be safe while using our products and also know that they will not harm the environment.  You can even call us for special tips when you're applying our products.  Whether you are a professional or a Do-It-Yourself-er, we want to ensure that every customer has a pleasant experience using our products.  We're here to help so you're not alone.
Contact Us
Please complete the form below and we will respond to you shortly.